Diversity and Inclusion
At USC, we are committed to your academic, professional and artistic development, and we have developed many resources to help you throughout your journey.
Asian Pacific American Student Services (APASS)
Established in 1982, APASS provides programs, services and resources for students who identify as Asian, Pacific Islander and Desi American (APIDA). We facilitate APIDA student participation, dialogue, community building and empowerment, as well as serve as a source of cross-cultural educational programming for the entire campus. Our unique learning opportunities include mentorship, leadership development, advocacy and community involvement.
Location: Student Union, STU 410
Living Learning Communities: APIDA Leaders Community in Birnkrant Residential College
Center for Black Cultural and Student Affairs (CBCSA)
Established in 1977, CBCSA provides intentional, holistic, scholarly and co-curricular programming designed to strengthen the understanding of Black Diasporic heritage. We strive to create a community that focuses on Black excellence through the following six pillars of success: Cultural Investment, Community Building and Engagement, Collaborative Partnerships, Social and Professional Development, Student Empowerment, and Student Wellness.
Location: Student Union, STU 100
Living Learning Communities: Somerville Place in Pardee Tower
First Generation Plus Success Center (FG+SC)
FG+SC serves as a resource hub for current first-generation, undocumented, transfer, and former foster youth students as they navigate campus. Our mission is to cultivate a sense of belonging and a culture of holistic well-being through intentional mentorship, supportive services and leadership opportunities.
Location: Tutor Campus Center, TCC 224
Latinx/Chicanx Center for Advocacy and Student Affairs (La CASA)
Established in 1972, La CASA provides empowerment through cultural identity, leadership and social consciousness development, as well as community building for undergraduate and graduate students at USC. La CASA strives to educate the campus about Latinx issues and the ethnic diversity represented within the community (i.e., Central and South America, Cuba, Dominican Republic, Mexico and Puerto Rico), by offering programs and services that focus on intersectionality.
Location: Student Union, STU 402
Living Learning Communities: El Sol y La Luna in Pardee Tower
LGBTQ+ Student Center
The LGBTQ+ Student Center is a cultural advocacy center that provides support, education, advocacy and community for all undergraduate and graduate students at the University of Southern California with an emphasis on students across the spectra of gender and sexuality. The LGBTQ+SC is committed to creating programming that serves the multiple intersections of identities within the diverse LGBTQ+ community, in collaboration with Student Equity and Inclusion Programs (SEIP) and other university partners, and fostering intentional identity development and leadership development for USC students.
Location: Student Union, STU 415
Living Learning Communities: Rainbow Floor in Century Apartments
Native American Student Assembly (NASA)
NASA is a cultural and educational organization for self-identifying American Indian students, as well as any other student or community member interested in American Indian issues and culture. NASA is dedicated to building a community among its members and to enriching the diversity of the USC campus.
Location: Student Union, STU 405
Student Basic Needs
The Student Basic Needs department fosters a culture of holistic well-being for students by helping to eliminate life barriers—such as food and housing insecurity and other economic injustices—that may jeopardize academic and personal success. We connect students to campus and community resources, help streamline communication with campus partners and develop our own initiatives to further support students.
Veterans Resource Center (VRC)
The VRC is committed to supporting the individual and academic success of veterans, service members and their families—whether that be in the form of assisting with enrollment, creating intentional veteran-focused programming, connecting students to on-campus services or supporting career development.
Location: Tutor Campus Center, TCC 330
Find Your Community
There are so many ways to find your community at USC. Here's just a small sample of the 1,000+ clubs and organizations available at USC: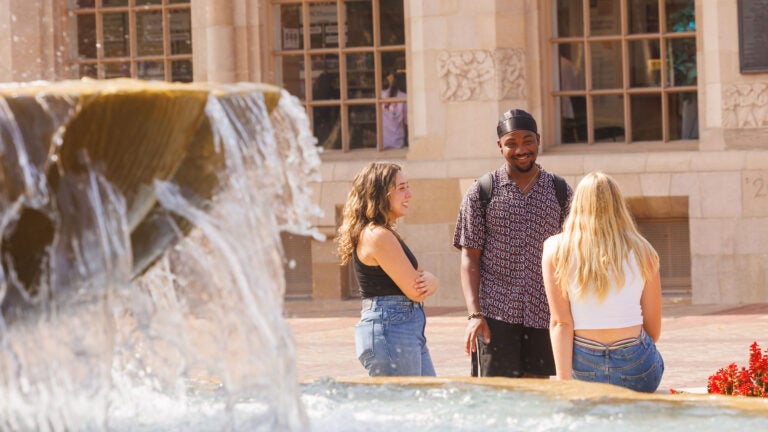 Black and Latinx Students
Want to hear from some of our alumni within both the Black Alumni Association and the Latino Alumni Association about their experience as part of the Trojan Family? Check out these interviews.
Follow us
Follow us on ZeeMee to learn more about student life and campus resources.