Participating in Welcome Trojans along with your student will help you learn how you can support them as they navigate this time in their life. Undergraduate students are encouraged to add up to two guests to their Welcome Trojans orientation reservation. Guests can be anyone in your student's support network: parents, guardians, grandparents, adult siblings, aunts, uncles, spouses, or trusted family friends.
Guest Reservation Options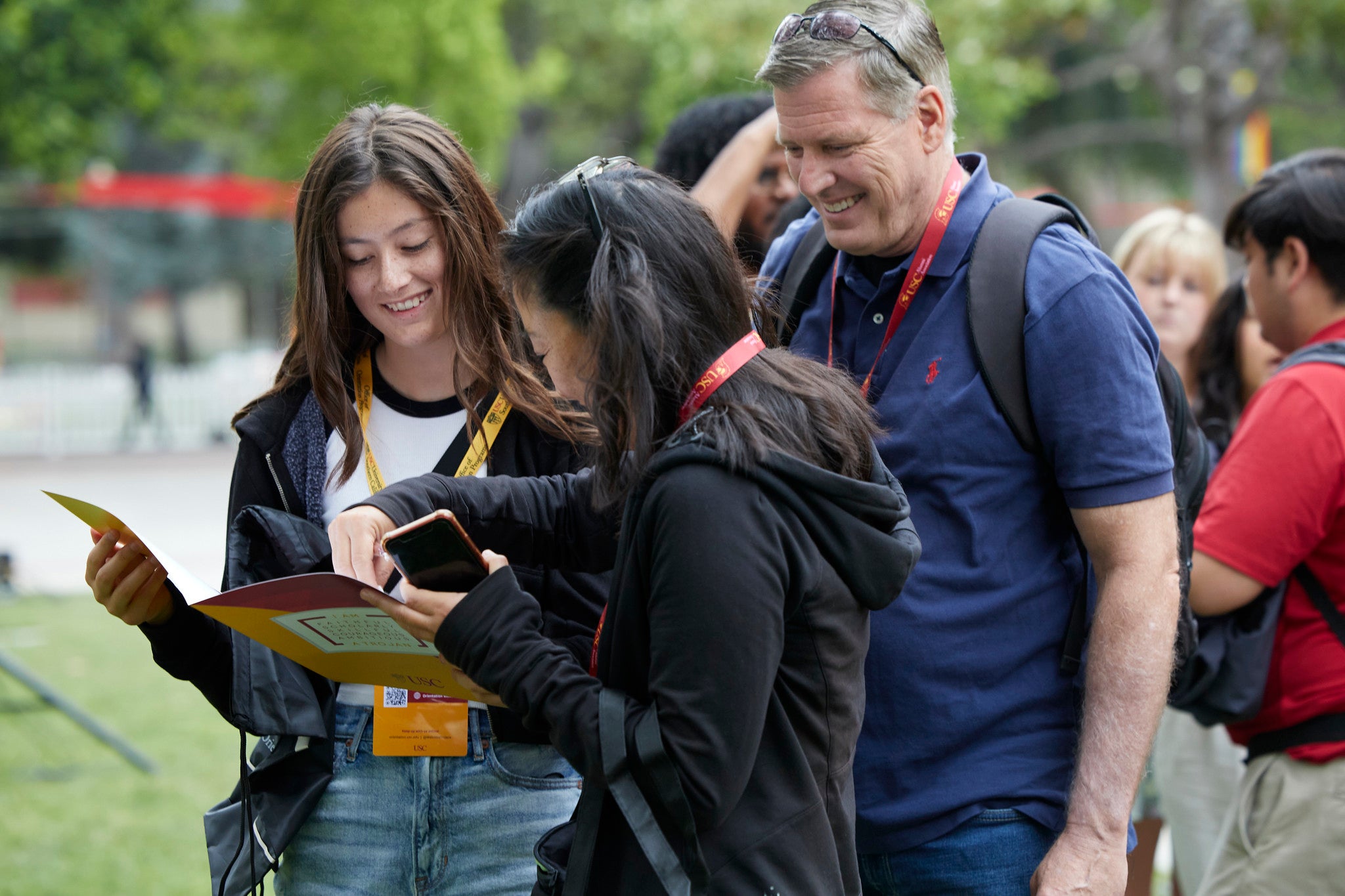 All reserved guests will receive access to the Trojan Engagement Center, as well as regular email updates prior to the start of their student's first semester.
Online Academic Advising, Course Registration, and Online Orientation are student-only sessions.
Keep in mind that On-Campus Orientation programming is designed for students and adult guests. We do not offer programming for younger siblings or children.
Accommodation Requests
We are not able to provide mobility assistance or translation services for guests at Welcome Trojans sessions. You should be prepared to assist any of your guests who require accommodation. If you have concerns, feel free to contact our office.
All virtual sessions will be live-captioned using Zoom's auto-captioning feature.
What Guests Learn During Orientation
Throughout Welcome Trojans, you will learn about academic requirements, various student resources including health and financial services, housing, transportation, and meal plans. You will also have opportunities to meet other Trojan parents, hear from staff and faculty, and make your own connections to the Trojan Family!
Making the Most of Welcome Trojans
The best advice we can give for making the most of your Welcome Trojans experience is to engage with the program and participate fully! Whether you are logging in to a webinar, viewing an on-demand video, or attending On-Campus Orientation, we recommend a distraction-free environment.
On-Campus Orientation Tips
Summer:
On-Campus Orientation is a full-day event. Please do not make travel plans, or schedule meetings or appointments, that require you to leave before the end of orientation.
Winter:
On-Campus Orientation is a partial day event. Please do not make travel plans, or schedule meetings or appointments, that require you to leave before the end of orientation.
There will be time before or after On-Campus Orientation for your student to move into their assigned housing.
Take the time to connect with campus resources and staff. Collect business cards. We are your partners in supporting your student during their time at USC and are happy to answer your questions.
You are welcome to take notes or take pictures of key pieces of information, but keep in mind that nearly all the information presented is available online. If you do not get everything down during the session, you can always follow up later.
Advising & Registration Tips
It may be helpful to discuss the following in regards to advisement and course registration so that you and your student are on the same page:
Students should complete their Pre-Registration Checklist on Blackboard prior to Online Academic Advising.
Welcome Trojans Online Academic Advising is limited to first-semester course planning. It may be held individually or in a group with other new students in that major.
During the second semester, students should meet with their academic advisor one-on-one to discuss their long-term plans.
First-semester Course Registration is frequently the most challenging. Students should remain flexible and patient.
Academic advisors are available during course registration times to ensure that students register for the courses necessary for their degree program. Students should refer to their USC email for information on how to contact their academic advisor during Course Registration.
Students have until the end of the third week of semester to add or drop courses, so there will be time to make schedule changes after orientation, but students should consult their academic advisor prior to making changes.